Refined sugar-free, oil-free, dairy-free, egg-less, gluten-free
---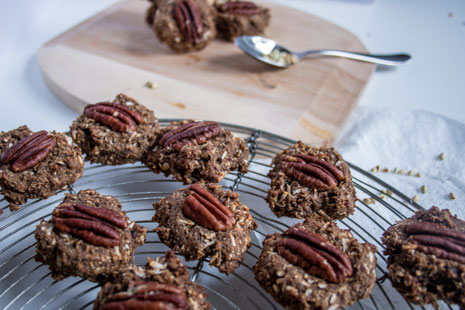 I wanted to make healthy cookies without banana because sometimes I prefer another type of texture and flavor. I could never find a good recipe so I created my own. They even ended up being gluten-free. You can make these with cocoa instead of carob. I found out that I have a mild cocoa intolerance so I used carob instead.
90g buckwheat
55g millet flakes
1tbsp chia seeds
2 1/2tbsp water
130g dates
3tbsp coconut flakes
1 1/2tbsp carob
1/2tbsp grain coffee
1/8tsp vanilla 
1 pince of salt
2tsp almondbutter
splash of almond milk
pecans
In a small bowl make a chia egg by adding the chia seeds and the water. Place buckwheat and millet flakes into a blender and mix until it's flouery Then mix all the dry ingredients together. Now mix the dates in a blender until it becomes a paste. Mix all the wet ingredients in another bowl. Now mix all the ingredients together and keep on adding almond milk until it becomes a cookie dough consistency.
I suggest one tbsp of dough for each cookie. Form small balls in your hands and place them on to the backing tray lined with either parchment paper or a backingsheet liner. Top them of with a pecan by gently pressing into the cookie.
Bake the cookies at 160°C for 12-16 minutes 
Or 320°F, use convection if you have it.
If you make these cookies feel free to send me pictures on my instagram @createonthegreenside.
Wish all you the best!
Moïra